London, England – Philips is proud to present the new Sonicare DiamondClean – a brush that takes sonic tooth brushing to its most sophisticated level and provides Philips Sonicare's best clean yet.
DiamondClean is clinically proven to remove up to 100% of plaque from hard to reach places and to improve gum health in only 2 weeks 1. It is also clinically proven to whiten teeth in 1 week 2; and its gentle technology actually protects against abrasion and gum recession to help reduce sensitivity.
DiamondClean harnesses sonic technology, unique to Philips Sonicare, that produces a powerful dynamic cleaning action for a difference users can see and feel. It is gentler than a manual or an oscillating toothbrush, helping to keep your teeth stronger and healthier for longer. Philips Sonicare's patented sonic technology gently whips toothpaste and saliva into an oxygen-rich foamy liquid and directs it between and behind teeth, even under the gum line, where plaque bacteria flourish.
So now is as good a time as any to give your teeth the celebrity treatment and switch to Sonicare to really experience the difference.
The brush is able to deliver a unique whole mouth clean thanks to its five bespoke brush modes that allow users to tailor their brushing according to their needs as well as their dental professional's advice. The brush modes range from:
Clean – the standard mode for a whole mouth clean
White – removes surface stains to whiten teeth
Polish – brightens and polishes teeth to bring out their natural brilliance
Gum Care – gently stimulates and massages gums
Sensitive – an extra-gentle mode for sensitive teeth
Brilliant cut
Sonicare DiamondClean brush heads sport a new diamond-cut tuft formation to provide users with a more efficient brushing experience. The uniquely designed diamond bristle heads have 44% more bristles than Philips' standard sized ProResults brush heads, and this provides the user with both superior plaque removal and whiter teeth1. The heads come in two sizes; Standard and Compact for focused cleaning in areas of special need, for orthodontic patients and those with smaller mouths.
Highly charged
When travelling or on the go, DiamondClean users can keep their brush fully charged using a revolutionary USB travel case which can be plugged into a lap top computer – however as the brush holds three weeks charge only the most seasoned traveler need avail themselves of this technologically advanced feature.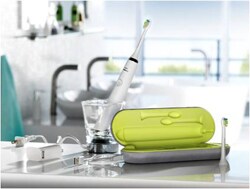 DiamondClean's chrome base also features a unique charging glass which can be used for mouth rinsing, as well as the latest in conduction technology to charge the toothbrush as it rests in the glass – making it stylish enough to display in the most fashion-forward bathroom.
Not only is Sonicare DiamondClean Philips' most advanced brush yet, it's also their most simple and stylish. DiamondClean's power handle has a ceramic finish and a chrome accent ring highlights the elegant neck of the brush. The technology in the handle is hidden so that the sleek matt white finish of the brush is uncluttered by electronic visual displays. Only when the simple on button is pressed are the brushing modes illuminated to reveal the array of options. These are then simply selected by scrolling down using a one button action.
For more information about Philips Sonicare DiamondClean, including copies of clinical studies, visit www.sonicare.co.uk
Philips Sonicare DiamondClean will be available on Amazon pre-order from 30 May and available nationwide from July in Amazon and Boots.  RRP £250.
1 Plaque removal efficacy of two novel Philips Sonicare DiamondClean brush heads, Putt M, Milleman J, DeLaurenti M, Schmitt P.
2 Evaluation of stain removal by Philips Sonicare DiamondClean power toothbrush and manual toothbrushes, Colgan P, DeLaurenti M, Johnson M, Jenkins W, Strate J.