Sonicare AirFloss is proven to remove up to 99 per cent more dental plaque from between teeth than brushing alone 1
London, UK – Philips, maker of the Sonicare toothbrush, is proud to unveil the Philips Sonicare AirFloss, an easy, effective way to clean in between teeth. Flossing on a regular basis can be time consuming as well as painful and it's with this in mind that Philips created the Sonicare AirFloss. With its breakthrough microburst technology Sonicare AirFloss is designed to make flossing easier, whilst maximizing plaque removal between teeth and ultimately improving gum health. During Philips consumer testing, 86 per cent of users found Sonicare AirFloss easier to use than floss2  and Sonicare AirFloss removes up to 99% more plaque in-between teeth than brushing with a manual toothbrush alone.1
Sonicare Airfloss works by using a rapid burst of air and water droplets that can reach up to 45mph to thoroughly fill up the interproximal area between teeth and force plaque and bacteria out. This rapid burst is directed using a nozzle guidance tip that ensures targeted cleaning between teeth and the one-button operation cleans the entire mouth in less than a minute1, while using less than one teaspoon of water for two full cleaning sessions.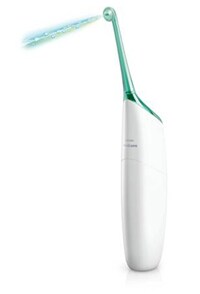 The Airfloss also has an ergonomically designed handle and angled nozzle to access all areas of the mouth and its cordless, rechargeable handle fits on the same charger as the Sonicare FlexCare+.
"We understand the struggle that many consumers face finding time to regularly clean between their teeth,'' says Jodie Bridge, Sr Marketing Manager, Philips Oral Healthcare. "Sonicare AirFloss was developed to improve oral health with an easy-to-use device that consumers will love to use daily."
Philips Sonicare is the #1 recommended sonic toothbrush brand by dental professionals worldwide and is backed by more than 175 clinical trials. The Philips Sonicare goal is to create and develop meaningful, easy-to-use oral health innovations that are designed to help people achieve and maintain oral health throughout a lifetime.
Philips Sonicare Airfloss will be available on Amazon pre-order from 30 May and on sale from mid August from Amazon and Boots.  RRP £90.
1 A Randomized, Parallel Design Study to Evaluate the Effect of AirFloss (Chinook) on Removal of Interproximal Plaque and Reduction in Gingivitis. Jain V, Wei J, Jenkins W, Delaurenti M.
2 An Ease of Use Study to Evaluate Philips Sonicare Airfloss, String Floss and the Waterpik Waterflosser (IHUT). S. Krell, A. Kaler, J. Wei.