London, England – With a three pronged attack of superior sound quality, intuitive, easy-to-use functionality and clean design the Philips Muse 3 is bang on goal. The Muse 3 is also Philips first audio product to feature two new technologies designed to ensure the listener continues to enjoy great sounds directly tuned to their personal taste – Safe Sound and Sound Personalisation.
Sound quality truly is a notch above thanks to Philips' Full Sound technology built within the device accompanied by high quality, noise isolation headphones bundled with the product. In addition to the high-quality headphones, the Muse 3 also has an inbuilt speaker perfect for sharing music or movie tracks.

The Muse is about much more than just audio playback. The high quality 3.2" touch-screen is in the 16:9 format which means that videos and TV shows don't need to be repurposed and can be displayed perfectly filling the screen without any distortion or cropping.
Philips Full Sound uses a powerful processor and a specially developed algorithm to enhance the quality of compressed MP3 files to make them sound more like the original recording. Softer tracks are subtly 'lifted' so that all the details and nuances in the music can remain apparent, while louder passages are 'lowered' to remain comfortable, without any hint of distortion.
Philips has ensured that the latest Muse is also very flexible and easy to use especially when it comes to customising music to personal taste by using the intuitive Sound Personalisation feature.
Rather than a traditional graphic equaliser, Sound Personalisation allows listeners to adjust the sound by simply running their fingers around the screen between the four corners marked as: 'powerful, warm, sparkling and vocal' and sound is automatically adjusted towards that style.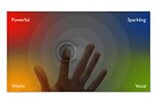 The Muse 3 also includes Philips SafeSound, which can constantly analyse the sound level and alert the listener if the volume and exposure could have a possible impact on their long-term hearing. They can take action by adjusting the volume to a lower level or allow SafeSound to automatically regulate the volume. In addition, SafeSound provides daily and weekly overviews of the listener's sound exposure so they can easily monitor usage and so take better charge of protecting their hearing.
As this screen is a high-quality touch screen control and navigation of the device has never been easier.
The player supports all the main audio formats with FLAC and APE lossless as well as MP3, WMA, AAC, Ogg Vorbis, Real Audio and WAV, it also supports multiple video formats such as MPEG4, WMV9 and RMVB.
Available in 8GB and 16GB memory sizes, there's plenty of storage space as standard but should even more space be required there's a microSD card slot for even greater storage capacity.
And for the ultimate convenience, the supplied Philips Songbird software locates and collates all of the music, wherever it's stored, into one easy to use application on a PC, with simple transfer to the Muse via an exceptionally user friendly interface.
The player also comes with FM radio with 20 presets so there really is more media choice than ever before.
The GoGear Muse is available now in 8GB and 16GB memory sizes with estimated selling costs of £109.99 and £139.99 respectively.