London – For the first time, owners of Android phones and devices can join their Apple counterparts to enjoy exceptional Philips Fidelio quality sound, plus 'dock, charge and play' simplicity, with an exclusive UK launch of a new range of docks initially available at selected Currys and PC World stores*.
The new Philips Android docking range offers a choice of three different models - the 'room-filling' sound from the AS851, sounds for home or on the go with the smaller mains or battery powered AS351, and a stylish alarm clock dock, the AS111.
Due to an innovative micro USB connector that can be adjusted to different positions and orientations to suit each variable Android device, alongside a dedicated Philips App, all of the docks will offer a similar 'dock and play' functionality to that of the Apple range.
In addition to docking and charging, sound transfer has also been made simple thanks to Philips dedicated Fidelio app for Android. When the phone is docked, the App automatically starts – if necessary automatically starting Bluetooth – and pairs the phone to the dock. So the minute you press play the sound is unleashed.
As the docks are part of the Fidelio range, the sound is guaranteed to be of the highest quality. The Fidelio for Android range consists of the following devices: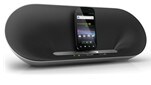 The clean lines of the curved back on the AS851 not only looks remarkable, but also creates a more effective structure for acoustic performance and allows superb crystal clear sound. Precisely tuned bass pipes also offer for deep and tight bass reproduction. The AS851 also features Philips Digital sound processing for lifelike, distortion-less music and 30W RMS total output power.
                                        The AS851 is available from today with an estimated street price of
                                        £199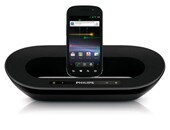 This slightly smaller AS351 will give you the right sound, both at home and on the go, with the option to choose between battery and AC power. This model offers Dynamic Bass Boost to preserve low tones for deep bass at any volume level and comes with 10W RMS total output power.  While a special shielding technology also blocks mobile phone interference.
The AS351 is available from today with an estimated street price
                                              of £129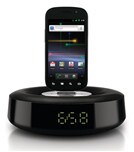 The third model in the range, the AS111 comes in an elegant and compact design that looks gorgeous from every angle and fits neatly on a bedside table. Its 360-degree design gives a rich omni-directional sound to fill your bedroom, whilst neodymium speakers to deliver pure and balanced audio, so you can wake up to a great sound from your Android phone whilst knowing its fully charged for the day ahead.
The AS111 is available from today with an estimated street price of £70
Visit http://bit.ly/utHjFV or www.philips.com/sound for more information on Philips' range of Fidelio docking speakers.
To find the Fidelio app in the Android MarketTM: please visit http://bit.ly/rsxmZZ