Having seen a 10 percent rise in the number of patients attending the Emergency Department at Queen's Medical Centre in Nottingham during 2009/10, the hospital has acquired a Philips Digital Diagnost TH system and wireless detector, designed to help its radiology service cope with the increase in demand.
The Philips Digital Diagnost TH is a direct digital radiography system with flat detector technology, based on modular components for all X-ray applications and workload requirements. This high performance system is ideal for hospital departments with high throughput and a demand for a large variety of applications and projections. It comes with Philips' multi-resolution image processing 'UNIQUE' that provides high image quality at the lowest possible X-ray dose.
"This new Philips equipment places us at the cutting-edge of digital radiography," said Richard Tucker, Superintendent Radiographer, Emergency Department, Queen's Medical Centre, Nottingham. "We wanted to be able to provide high quality images and higher patient throughput without comprising patient care and, as we already had Philips units in the past, with support from the Philips applications team, it meant that staff could easily migrate to the new platform. We also worked closely with the design team at Philips to ensure that the unit would fit in with our workload and could be adapted to our environment."  
Richard commented: "Since switching to digital radiography, we have found that we're using quite different techniques compared with standard computed radiography. This has allowed an added degree of flexibility within our department, allowing us to optimise the system based around the needs of our patients. With our department operating 24/7, the digital room is in constant use, and now able to deliver excellent radiographic images that allow clinicians to make critical decisions on clinical pathways for patients."
…more…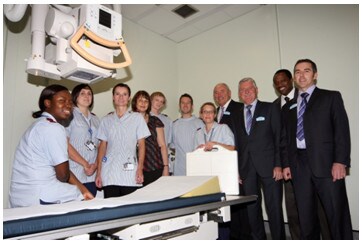 Shown here (left to right): Annie Owus and Leanne Chiverton, Radiographers; Annie Smith, Senior Radiographer; Sara Bharmal, Radiology Services Manager; William Stribley, Radiographer; Richard Tucker, Superintendent Radiographer; Nicola Dawes-Hamp, Senior Radiographer; John Atwill, Managing Director, Philips Healthcare UK & Ireland; Rob Davies, District General Manager, Central & West UK, Philips Healthcare; Ian Mitcham, Key Account Manager, Midlands, Philips Healthcare; and Simon Bannister, Service Delivery Manager, Midlands, Philips Healthcare.
Ends