The recently opened Queen Elizabeth Hospital in Birmingham, part of the University Hospitals Birmingham NHS Foundation Trust has recently purchased a Philips MultiDiagnost FD Eleva X-Ray system.  The  hospital, the first new acute Hospital to be built in the city for seventy years, is an amalgamation of the Queen Elizabeth Hospital and Selly Oak Hospital and represents a £545 million investment in health services for Birmingham and the Midlands.   The overall contract awarded to Philips Healthcare included the purchase of three Allura biplane cardiac systems, and an Allura single-plane vascular system, all units using the same Eleva user interface, ensuring workflow conformity of the user interface throughout the interventional suites.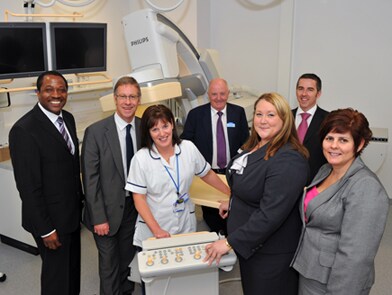 Shown here (left to right) Ian Mitcham, Key Account Manager, Midlands, Philips Healthcare, Paul Brettle, Group Manager, Imaging & Medical Physics and Linda Rowe, Superintendent Radiographer, both of UHB NHS Foundation Trust.  Alex McFarlane, IXR/DXR Business Manager,  Stephanie Holden, IXR/DXR Specialist and Simon Bannister, Service Delivery Manager, Midlands, Philips Healthcare, and Tina Jones, Medical Physics Operations Manager, UHB NHS Foundation Trust    
Philips MultiDiagnost FD Eleva is a multi-purpose X-Ray system with an FD20 Flat Detector. Versatile and practical, it combines clinical functionality with true workflow-enhancers and complete interoperability.   Designed to adapt to the individual operator's way of working to increase productivity and throughput, exam- and patient-related pre-sets can be programmed to each user's preferences.   The easy-to-customise settings increase efficiency and at the same time reduce potential operator error.
The flat detector technology offers improved diagnostic image quality plus an increased range of applications and although primary for an RF room, the system is flexible enough to handle vascular, interventional and orthopaedic/skeletal examinations.
In addition, "DoseWise", Philips unique approach to image quality and X-ray dose management ensures that every possible opportunity is taken to reduce X-ray dose while ensuring excellent diagnostic image quality.  
Alex McFarlane, IXR/DXR Business Manager, Philips Healthcare UK, says, "The design and philosophy of the Eleva concept is based on feedback from our customers.  The result is a common platform and user interface for our radiography and fluoroscopy systems that promote workflow continuity and an optimised work environment."