The new state-of-the-art Peterborough City Hospital, which only opened its doors to patients last December and is the largest building project in the area since the construction of the Cathedral 800 years ago, has chosen Philips to supply its patient monitoring systems, including the first IntelliVue MX800iPC patient monitor to be installed in a UK hospital.
The MX800iPC is the first patient care system to incorporate patient monitoring and clinical informatics and is designed to simplify access to patient information. As its monitor and PC clinicians can use the MX800ipC to access patient information from the hospital intranet or other PCs without compromising vital signs monitoring or clinical alerts.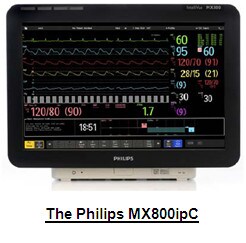 The Mx800iPC is an addition to the  IntelliVue family of networked patient monitors. Designed to give care teams throughout the hospital bed side access to more of the information needed to enhance diagnostic confidence Clinicians at the Peterborough City Hospital will be using a number of monitors from the IntelliVue family including the compact MP30, which provides flexible care and can be used during patient transfer; the portable MP50, designed to match the pace and unique needs of intermediate care environments, at the patient's side; the versatile MP70, which can be used for both critical and intermediate care; and the MP5, which can be used both in and outside of the hospital.
Bringing all these monitors together is the ubiquitous X2giving seamless monitor to monitor data transfer.
John Atwill, Managing Director, Philips Healthcare UK & Ireland, said, "We're proud and excited to be the chosen supplier for patient monitoring at this new, state-of-the-art healthcare facility." He added: "Philips' patient monitoring systems are the best in the world because they're designed to help healthcare professionals in centres like Peterborough City Hospital make the most of their time, talent and resources, and to support in the delivery of high quality patient care."