Preston, UK - Royal Preston Hospital recently acquired a Philips Allura FD10 cardiac system.  The hospital will now be able to perform high quality diagnostic procedures within its own newly refurbished cardiac department.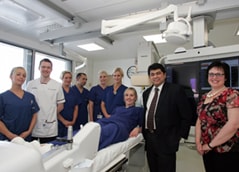 Shown here at the handover of the new Cath Lab is (left to right) Bev Calsen and Peter Cook Specialist Radiographers, Emily Draper, Cardiac Nurse, Dr. A. Bhada, Staff Grade, Diana Butler, Specialist Radiographer; Lauren Withey and Carla Hendy, Cardiac Nurses, Dr. S. Kumar, Consultant Cardiologist and Theresa Gibson, Key Account Manager, Northern District, Philips Healthcare  
The Allura FD10 system advanced imaging techniques providing optimal balance of efficient workflow, superb imaging and low X-ray dose. It comes with Philips' StentBoost, a simple, quick and efficient tool that enhances stent visualisation in the coronary arteries, showing the stent in relation to the vessel walls during the procedure.  This assists in placing the stent more accurately the first time, with the potential to shorten procedures and eliminate additional ones.
Caroline Mee, Clinical Manager says, "We chose the Philips system as our first fixed cardiology imaging system due to its superior image quality, outstanding ease-of-use and previous experience of Philips' systems."
The Allura Xper FD10 was developed using Philips "functional building block" product development method.  This method treats every Allura system as a combination of five building blocks: geometry, X-ray generation, DoseWise, user interface and image detection.   Each one of these building blocks is being continuously evolved to enhance performance and when significant advances are made in any area, Philips offers that functionality on new systems as well as existing systems ensuring a "future-safe" investment.                                                    
The system has been designed to provide the tools necessary to carry out complex interventional cardiovascular procedures, providing exceptional visualisation of cardiac anatomy in examinations where contrast media and X-ray dose really matter. Its unique DoseWise feature is active at every level of the system, from SpectraBeam and pulsed fluoroscopy to a clear dose display.  It gives a range of automatic exposure controls to maximise dose efficiency, including the customisable programmes that automatically select the correct fine-tuned parameters for particular exam types, so that the user gets the right exposure the first time.  Grid switched pulsed fluoroscopy maximises the efficiency of the X-ray beam and reduces X-ray dose even more. In addition, Philips has developed special Xper dose settings uniquely suited to interventional cardiology, electrophysiology and paediatric applications. These clinically proven protocols generate superb image quality with a low X-ray dose.