London, UK - Philips Healthcare has announced the formation of a new Women's Healthcare team, as part of an ongoing commitment to women's healthcare spanning traditional business silos and more focussed care pathways.  
New to the Philips Healthcare range is the Philips MicroDose mammography system.   Based on photon-counting technology, the new system provides the radiologist with high quality images at up to fifty percent reduction in dose compared to other Full-field Digital Mammography (FFDM) systems.
Philips photo-counting technology provides exceptional advantages.  Since X-rays are digital by nature and the Philips detector counts them one by one, a direct capture of individual X-rays occurs.   This means there is no electronic noise in the image and no information loss in conversion steps, as is the case in all other digital detector technologies.  There is no diffusion as in selenium, and no light scatter as in phosphor.
Photon counting is the fastest detector technology on the market.  There are no "ghost images" that could interfere with image interpretation since the detector is fast enough to be ready when the next photon arrives.   The image is acquired by a multi-slit scanning technology that eliminates the scattered radiation and significantly reduces the noise level in the image.  The multi-slit scanning technology ensures that images are totally reliable, with no dead pixels that could obscure micro-calcifications.   In addition, MicroDose's SmartAECTM continuously adjusts radiation exposure depending on the density of the breast.  
Neil Emery, Commercial Manager, Philips Women's Healthcare UK, comments "Breast tissue is especially sensitive to radiation, so keeping dose levels to a minimum is vital.   With Philips' MicroDose, the radiation dose is significantly lower than any other mammography system without compromising image quality.   The whole procedure takes less than five minutes, including image acquisition – a speed and convenience that patients appreciate."
Philips' MicroDose mammography addresses busy case loads by allowing screening services to practically screen a client every five minutes.   Many current MicroDose users in the UK routinely examine twelve clients per hour with a standard four-image examination.   The resulting images deliver 25 megapixels of resolution, enabling visualisation of the fine detailed structures in the breast such as micro-calcifications and spiculations.
Neil concludes "The key factor in reducing breast cancer mortality rates is the early detection of small lesions.  This requires highly effective equipment with superb image quality.  A number of factors, such as electronic noise, scattered radiation and information loss during analogue to digital signal
conversion can negatively affect image quality.   To compensate, most FFDMs have to increase the radiation dose.   By removing these factors, Philips facilitates secure diagnosis at the lowest possible radiation dose."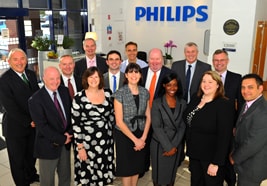 Photo caption -  Philips Women's Healthcare team (WHT)
(Left to right, back row) John Atwill, Managing Director, Alex McFarlane, IXR/DXR Business Manager, Neil Emery, Commercial Manager WHT, Chris Varian, Director International Sales WHT, Kevin Chawke, Customer Support Engineer, Nick Page, CS Operations Manager, Mike Hayden, Sales Director Imaging Systems.  Paul Reed, Service Support Team leader WHT, Toby Woodhouse, Director International Service Support WHT and Paul Fyzool, Service Support Specialist WHT
Front row (left to right) Alwena Hall, Marketing Specialist Imaging Systems, Donna Webb, Mammography Sales Specialist, Runya Mukanganwa, Applications Specialist, Mammography and Stephanie Holden, Business Leader dXR