London, UK – Philips is delighted announce that landscape architect, Tom Harfleet, won the Silver-Gilt Flora award for his garden design, The Bright Idea, in the Conceptual Garden category at this year's Hampton Court Palace Flower show. The event, which took place between July 5th – July 10th 201 is one of the largest of its kind in the world. 
The concept garden which Philips sponsored uses 2500 LEDs and shows how technology and nature are linked. As Harfleet explains, "All the best ideas come from nature and the aim was to recreate this in this year's design. The flexible and dynamic characteristics of LEDs enabled me to realize this "eureka moment". I am delighted to have won the Silver Gilt award but more than that I am really pleased by the way in which the Bright Idea garden was received by the public. The reaction from visitors to the show has been amazing and that has made all the effort worthwhile."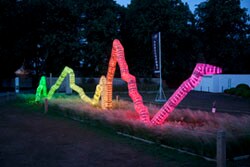 The ambitious project embodies the human thought process replicating the brainwave of someone who is dreaming. A fine mesh tube was created which spanned the length of the garden and had a central spine covered in LEDs which pulsed along the 27metre structure reinforcing the wave theme.  Mexican feather grass was planted surrounding the formation so that it could move in the breeze to represent brain matter. Interspersed in the grass, vivid pools of brightly coloured flowers were strategically positioned at specific points in order to give the impression of the idea being carried along the brainwave spilling out when it touched the ground.
Commenting on the initiative, Peter Maskell, Chairman and Managing Director of Philips Electronics UK Ltd said, "We are delighted to have been able to sponsor and encourage young, talented designers in this way, particularly in projects such as this which showcase how light can be used in new and imaginative ways enhancing the visitor experience."