Kettering, UK – Philips has supplied a range of energy efficient LED lighting systems for the two VELUX CarbonLight Homes* in Rothwell, Kettering.  The project sets out to prove that it is possible to build energy efficient, sustainable housing that is practical, appealing and comfortable for the consumer while being easy for the volume house builder to replicate.
The scheme has been designed to deliver a 70% reduction in carbon emissions on site while the remaining 30% of carbon emissions are offset by allowable solutions; for example by funding energy saving improvements to existing local housing stock.
Commenting on the initiative, Fabiola Craddy, Brand Manager of Philips Consumer Lighting said, "We are delighted to be involved in this worthwhile project. Given that lighting consumes nearly 20% of global electricity consumption, an initiative such as this, which seeks to show the benefits of switching to low energy lighting, makes perfect sense. The potential savings to be gained both in terms of CO2 emissions and financial cannot be ignored. And of course, today's range of energy efficient lighting options means that light quality is not compromised."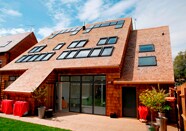 The houses have been designed to maximize the natural daylight coming into the space. To supplement this, particularly during the evening hours and winter months, Philips has supplied a variety of LED based bulbs and fittings. These not only ensure minimal environmental impact but also have a high degree of aesthetic appeal. After all, the houses will ultimately need to be livable and will be monitored post occupancy to see how the residents interact with the homes. With this in mind Philips Living Ambiance has been installed within the main living areas. This new lighting concept will enable the residents to instantly match the ambiance of a room to their moods or activities.
Living Ambiance is based on a wireless system and is simple to use. Integrating multiple fittings and bulbs different scenes can be created using adjustable white and coloured light which can be instantly set and recalled using a remote control.
As Craddy continues, "Empowering people to define their personal environments through design and style is an important way for them to make their home a special, personal place. With Living Ambiance, you can now change the light to instantly transform a room according to your mood, occasion or moment - lighting is not limited to on or off or brighter or dimmed but opens up a whole world of lighting possibilities for people to play with. We will, therefore, be very interested in following the project and how the residents interact with the products in the months to come!"