Orchard House, London - One of Philips Dynalite 's home automation control systems has been installed in a prestigious London mansion to provide superior performance, lighting control and energy efficiency.
Orchard House is an impressive eight-bedroom detached residence adjoining Wimbledon Common in South London, built to offer unparalleled scale and luxury.
Orchard House incorporates four living rooms, separate staff accommodation, cinema room and library across three floors in addition to an adjoining indoor swimming pool and spa complex as well as a multiple car garage and a security lodge.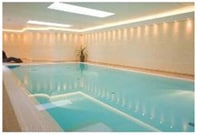 The user-friendly fully automated control system is based on Philips Dynalite technology and controls the lighting circuits, along with the air-conditioning, under-floor heating and gas fires in the main living rooms.
Home automation and electrical specialists, CEI of Meopham Green, Kent were engaged to create a fully automated smart home that would provide the residents with convenience and flexibility. The facilities specified included multi-room audio visual systems and a fully equipped modern home cinema with one-button touch control and bathroom-tile televisions.
Philips Dynalite's intelligent mood lighting and climate control system offered as part of their integrated home automation control system provided a highly efficient solution for excellent automation control throughout the property.



Highlights of the Philips Dynalite home automation control system:  
Colour touchscreen control panel for the Philips Dynalite system located at the entrance to the residence 
Screen displays the layout of the building on a floor-by-floor basis in a schematic form 
Schematic and an LED status display enable the user to control and adjust the lighting in each room as well as the pool area, sauna and steam rooms 
Controllers on the main control panel can be used to control the level of light, allowing the user to create the required ambience 
Mood settings can be recalled at the press of a single button 
Goodbye mode on the keypad turns off all the lighting circuits while Hello mode turns on the set lighting scene 
Lighting control system programmed to operate all dimmed lighting circuits at 95% to reduce energy wastage and save lamp life 
Ballast controllers enable the Dynalite system to dim all circuits including cold-cathode varieties 
Climate control systems fully integrated into the Dynalite network via a LonWorks interface 
Integration enables the heating and air-conditioning systems to be linked to Dynalite's OLED displays built into the control panels 
Lighting system controls the cold-cathode bulkhead lighting around the indoor pool's perimeter as well as the ceiling-mounted fibre optics