Troubleshooting
The milk froth from my SENSEO Latte Duo is decreasing.
This problem may have various causes. Please check if one of the causes below applies to your SENSEO® coffee machine.
There is not enough milk in the milk carton, bottle or jug
Make sure the milk carton, bottle or jug contains enough milk.
The milk spout is dirty and has to be cleaned
Because you use fresh milk to prepare your coffee specialities with milk, it is essential that you keep the milk spout clean.
A clean milk spout is essential to ensure good milk froth and proper hygiene.
The parts of the milk spout have not been assembled properly
Place the small lid back on the frothing system and gently press it down.
Place the bottom part of the frothing system back and gently press it down.
Close the spring to lock the two parts together.
Install the other parts into the milk spout. Make sure that the milk tube is properly connected to the milk spout and that the tube is placed in the milk carton, bottle or jug properly.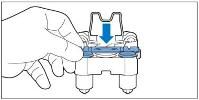 LatteDuo-fix milk spout lower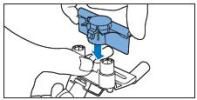 LatteDuo-fix milk spout spring
Internal part of the milk spout is clogged
To unclog the milk spout, following the steps below:
Mix 50 grams of citric acid with 1 litre of lukewarm water in a bowl and stir until the powder is completely dissolved.
Place the complete milk spout in the bowl with descaling solution. (ensure milk hose is not connected)
Turn/rotate the milk froth unit a few times so all air can escape from the milk spout.
Leave the milk spout in the descaling solution for 15 – 30 min.
Afterwards clean the milk spout (it is best to disassemble all parts) under a running tap to dissolve the descaling solution which could affect taste.
The appliance is ready for use again.

The milk you used was not cold enough
Your coffee machine only produces good milk froth when you use cold milk.
We advise you to use semi-skimmed cow's milk that comes straight from the fridge and has a temperature between 5-8 degrees Celsius.
Tip: Put the milk back into the fridge immediately after use to make sure that it is cold enough for your next coffee speciality with milk.
You may have used another type of milk other than cow's milk
Do not use any other kinds of milk other than cow's milk (e.g. rice milk or soy milk), as these kinds of milk do not produce high-quality milk froth.
To get the best quality milk froth, we advise you to use semi-skimmed cow's milk.
If the above solution(s) did not help to solve your problem, please contact the Philips Consumer Care Centre in your country