Frequently Asked Questions
How to remove and recycle the battery in my Sonicare toothbrush
Find out how to easily remove and recycle the batteries of your Sonicare toothbrush. Follow these simple steps.
Before removing
Only remove the rechargeable battery when you discard the Sonicare toothbrush. Before you remove the battery:
Make sure that the battery is completely empty. Turn on the toothbrush to fully drain the battery
Protect your eyes, hands and the surface on which you work.
Removing the battery from your Sonicare handle
All you need is a towel/cloth and a flat-head screwdriver. Instructions:
Put the flat-head screwdriver into the slot at the bottom of your handle and turn anti-clockwise until you see a gap (Fig. 15)
Place the screwdriver into the gap and pry the bottom cap out of the handle (Fig. 16)
Hold the handle upside down on a towel/cloth and push down to release the inner parts of the handle (Fig. 17)
Place the screwdriver between the circuit board and the battery connectors
Twist to break the battery connectors
Remove the circuit board and pry the battery from the plastic carrier (Fig. 18)
You can now recycle the battery and the rest of the product.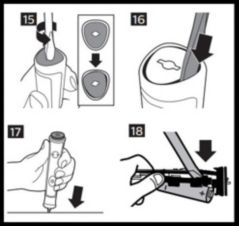 For more detailed instructions:
Please refer to your Sonicare user manual.