My Philips Air Purifier makes an unusual noise
When your Philips Air Purifier makes an unusual sound, there could be several causes. Learn more here.
The pre-filter may be clogged
Please make sure the pre-filter is clean. If you need to clean it, you can follow these instructions:
Switch off the appliance and unplug it from the wall outlet.

Pull the bottom part of the panel (the front or the back part of your purifier) to remove it from the appliance

Press the two clips down and pull the pre-filter towards you (see image below)

Wash the pre-filter under a running tap. If the pre-filter is very dirty, use a soft brush to brush away the dust

Air dry the pre-filter until it is completely dry.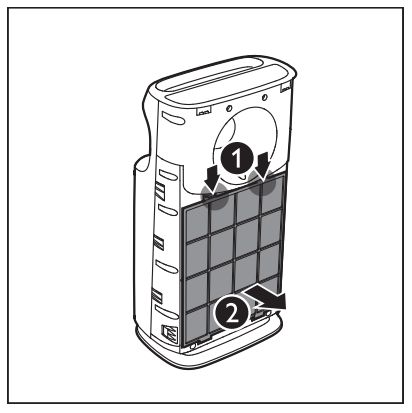 The filter packaging is not removed
When the wrapping plastic is not removed from a filter, this might cause an unusual noise. Please make sure there is no plastic wrap left covering the filters.
Something is blocking the air inlet or outlet
The air inlet or outlet may be blocked by external objects.
Please check this and make sure the air inlet and outlet are unobstructed.
Your air purifier may be malfunctioning
If none of the above situations apply, then there may be a technical issue with your purifier. In this case, please contact us.