Servings
1 persons,
Preparation time
110 minutes,
Cooking time:
75 minutes
Ingredients
8 red peppers
10 fresh red chillies
3 tablespoons olive oil
2 medium red onions, peeled and chopped
1 thumb-sized piece of fresh ginger, peeled and finely grated
1 sprig of fresh rosemary, leaves picked and chopped
2 fresh bay leaves
2 cloves
1 small cinnamon stick
sea salt and freshly ground black pepper
100 gram soft brown sugar
100 millilitre balsamic vinegar
Directions
Start by sterilising your jar (or jars). Preheat your oven to 140°C. Wash your jam jars, lids and rubber seals in hot soapy water and rinse in warm water. Let the jars drip dry, place them on a baking tray and pop in the oven for 30 minutes.
Meanwhile, toss the peppers and chillies in a large roasting tray with 2 tablespoons of olive oil. When you remove the sterilised jars from the oven, turn the heat up to maximum (240°C). Once hot enough, add the tray of peppers and chillies to cook for 40 minutes, or until the skins have blackened. Using tongs, carefully transfer the peppers and chillies to a large bowl, cover it with cling film and leave to steam for about 20 minutes
Carefully peel all the peppers and chillies – you can wear plastic gloves to protect your hands if you like. Pull out the stalks and remove the seeds, then finely chop it all and put aside.
Make sure the stirrer attachment is in place in the HomeCooker pan, then set the temperature to 175°C. Once the pan has heated up, add 1 tablespoon of olive oil along with the onion, ginger, rosemary and bay leaves, cloves and cinnamon. Add a good pinch of salt and pepper and set the timer for 15 minutes, so the onions get golden and sticky.
When the time's up, reduce the temperature to 130°C, add the peppers, chillies, sugar and vinegar. Set the timer for a further 60 minutes to reduce everything down to a thick, sticky chutney.
Once it's done, remove the cinnamon stick, bay leaves and cloves. Spoon the chutney into jars and store them in a cool dark place. Delicious with roast meats, strong cheese or sausages.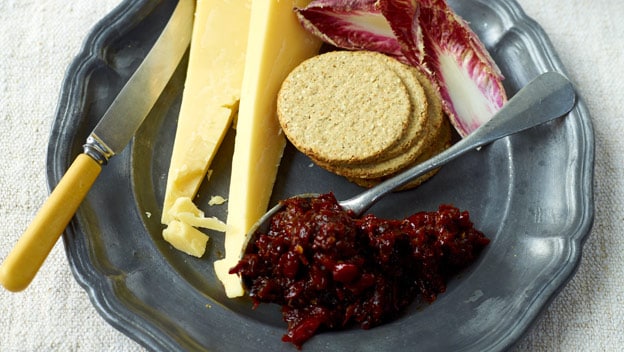 Our site can best be viewed with the latest version of Microsoft Edge, Google Chrome or Firefox.