Servings
4 persons,
Preparation time
15 minutes,
Cooking time:
25 minutes
Ingredients
200 g fresh cherries or 1 jar of cherries, well-drained
2-3 tablespoons crème de cassis or vodka
50 g flour
2 tablespoons sugar
1 egg
125 ml sour cream
10 g butter
Powdered sugar
Small, low cake pan, 15 cm diameter
Directions
Pit the cherries and mix them in a bowl with the kirsch or crème de cassis.
Preheat the airfryer to 180°C.
In another bowl, mix the flour with the sugar, a pinch of salt, the egg and the sour cream until the dough is smooth and thick. Add a drop or two of water, if necessary.
Spoon the batter into the buttered cake pan. Place the cherries evenly over the top of the batter and place the remaining butter in small chunks evenly on top.
Put the cake pan in the fryer basket and slide the basket into the airfryer. Set the timer to 25 minutes. Bake the clafoutis until it is golden brown and done.
Immediately after baking, dust the clafoutis with plenty of powdered sugar. Serve the clafoutis lukewarm in slices.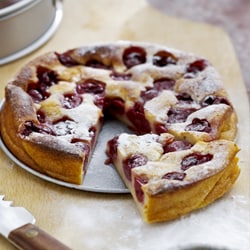 Our site can best be viewed with the latest version of Microsoft Edge, Google Chrome or Firefox.