Servings
8 persons,
Preparation time
15 minutes,
Cooking time:
30 minutes
Ingredients
3 eggs
125 ml sour cream
150 g flour
150 g caster sugar
125 g unsalted butter
40 g cocoa powder
1 tsp baking powder
½ tsp bicarbonate of soda
2 tsp vanilla essence
Chocolate icing:
150 g chocolate
50 g unsalted softened butter
200 g icing sugar
1 tsp vanilla essence
Directions
Preheat the Airfryer to 160°C.
Place all the cake ingredients into a food processor and mix well. Transfer to the oven dish.
Place the oven dish into the basket of the Airfryer. Slide the basket into the Airfryer and set the timer for 25 minutes. Once the time is up and the timer rings, prick the cake with a wooden skewer or fork. If it comes out clean, the cake is cooked through. If it's still sticky, place the cake back into the Airfryer and set the timer for another 5minutes.
Remove the dish from the basket and leave the cake to cool on a wire rack.
Meanwhile, melt the chocolate au bain marie or in the microwave. Leave to cool a little, then mix all of the icing ingredients together.
Remove the cooled cake from the oven dish and place it onto a plate. Cover with the chocolate icing and serve.

Chef's tip:

1. You can replace the bicarbonate of soda with baking powder if necessary.2. You can also mix the cake batter by hand; the preparation time will be slightly longer.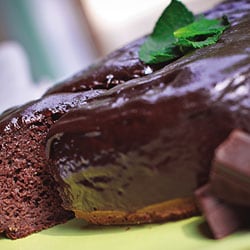 Our site can best be viewed with the latest version of Microsoft Edge, Google Chrome or Firefox.