Servings
4 persons,
Preparation time
10 minutes,
Cooking time:
10 minutes
Ingredients
½ small fresh pineapple
1 tablespoon honey
½ tablespoon lime juice
¼ liter ice cream or mango sorbet
Parchment paper
Directions
Preheat the airfryer to 200°C. Line the bottom of the basket with baking parchment, leave 1 cm of the edge open.
Cut the pineapple lengthways into eight sections. Cut away the skin with the deep crowns and also remove the tough core.
Mix the honey with the lime juice in a bowl. Brush the pineapple sections with the honey and put them in the basket. Sprinkle the coconut on top.
Slide the basket into the airfryer and set the timer to 12 minutes. The pineapple with the coconut should be hot and golden brown.
Serve the pineapple sections on plates, each with a generous scoop of ice cream next to it.
TIP: Spicy Pineapple - Mix 1 finely chopped red chili or 1 teaspoon of red chili paste through the honey mixture, together with 1 tablespoon finely chopped, fresh coriander. - Prepare the pineapple sections according to the recipe. These spicy pineapple sections are nice as a side dish for Asian food, but also delicious as a dessert. For dessert, serve the pineapple with coconut ice cream.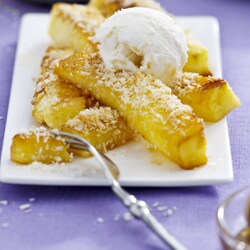 Our site can best be viewed with the latest version of Microsoft Edge, Google Chrome or Firefox.