Servings
2 persons,
Preparation time
10 minutes,
Cooking time:
20 minutes
Ingredients
2 small apples
1 tablespoon raisins
2 sheets of ready-to-use puff pastry, 10 x 10 cm
2 tablespoons milk
Pizza pan, 15 cm diameter
Directions
Preheat the airfryer to 180°C.
Peel and core the apples. Enlarge the hollowed-out core a little by scooping out some extra apple.
Mix the raisins and the jam.
Place an apple on each slice of dough and fill the hollowed-out core with the raisin mixture. Fold the dough around the apple, enclosing it completely.
Place the stuffed apples on the pizza pan with the dough seams facing downward. Then brush the dough with milk.
Put the pizza pan in the fryer basket and slide the basket into the airfryer. Set the timer to 20 minutes and bake the stuffed apples until golden brown and done.
Allow the stuffed baked apples to cool until they are lukewarm and serve them with a scoop of ice cream or vanilla quark (curd cheese).
Variations: Fill the apples with: - Chopped dried apricots, cinnamon and ½ tablespoon soft brown sugar - Dried cranberries, 1 teaspoon scrapings of vanilla pod and ½ tablespoon sugar - Raisins, ½ tablespoon grated orange peel and ½ tablespoon brown sugar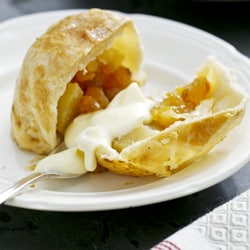 Our site can best be viewed with the latest version of Microsoft Edge, Google Chrome or Firefox.