A chilled citrus bite
Servings
4 persons,
Preparation time
5 minutes,
Cooking time:
0 minutes
Ingredients
½ pineapple, peeled and halved
2 oranges (peeled)
1 lemon (peeled)
2 teaspoons honey
crushed ice (from 8 ice cubes)
Directions
Process the pineapple, orange and lemon in the juicer. Add the juice to the blender, along with the honey. Blend until smooth, pour over crushed ice and serve immediately.
5 minutes preparation time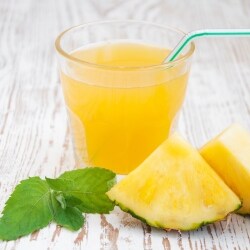 Our site can best be viewed with the latest version of Microsoft Edge, Google Chrome or Firefox.