Melt in your mouth
Servings
1 persons,
Cooking time:
120 minutes
Ingredients
For the dough:
2 eggs
100 ml oil
4 tablespoons sugar
½ tablespoon salt
350 ml lukewarm milk
50 g Parmesan, grated
10 g active dry yeast or 37.5 g fresh yeast
750 g all-purpose flour
For the topping:
2 tablespoons butter, melted
Parmesan, grated
For the filling:
250 ml milk
2 teaspoons salt
3 tablespoons cornstarch
1 tablespoon butter
Directions
Combine the eggs, oil, sugar, salt, milk and cheese in the blender and blend for 1 minute.
Mix the flour and yeast in a large bowl. Pour the mixture from the blender into the flour and beat with the mixer until smooth.
Shape the dough into 25-30 (tangerine-sized) rolls and leave to rest on a greased baking sheet for 1 hour. Preheat the oven to 190°C.
Bake the rolls in the oven for 20 minutes until golden. Remove from the oven, brush with the butter and sprinkle with the Parmesan.
Next, mix all the ingredients for the filling, except for the Parmesan. Heat the mixture in a saucepan until it starts to thicken, then turn off the heat and stir in the Parmesan.
Slice the rolls open, spread the mixture on one half and place the other half back on top. Serve warm.
2 hours total preparation time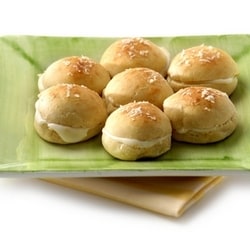 Our site can best be viewed with the latest version of Microsoft Edge, Google Chrome or Firefox.