Cool and luxurious
Servings
4 persons,
Preparation time
5 minutes
Ingredients
100 g white grapes
¼ pineapple, peeled and in chunks
crushed ice (from 8 ice cubes)
Directions
Put the grapes and pineapple in the blender and blend until smooth. Pour over crushed ice and serve immediately.
5 minutes preparation time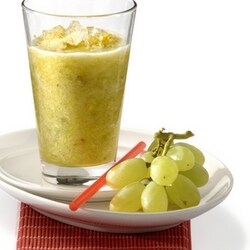 Our site can best be viewed with the latest version of Microsoft Edge, Google Chrome or Firefox.