Servings
4 persons,
Preparation time
5 minutes,
Cooking time:
70 minutes
Ingredients
3 tablespoons olive oil
600g waxy potatoes, peeled and cut into 2.5cm cubes
1 sprig of fresh rosemary or thyme, leaves picked
sea salt and freshly ground black pepper
5 cloves of garlic, skin on and crushed whole
Directions
Make sure the stirrer attachment is in place in the pan, then set the temperature to 250°C.
Once the pan has heated up, add the olive oil and potatoes. In a pestle and mortar, bash the rosemary or thyme leaves with a pinch of salt, then add to the pan with the crushed garlic cloves and a pinch of pepper. Set the timer for 70 minutes so the potatoes get all golden and crispy. Spoon onto a serving plate and enjoy with roast beef or chicken and lots of gorgeous seasonal veg.

Chef's tip:

Try adding some peeled wedges of red onion or halved chestnut mushrooms halfway through cooking to mix things up a bit. You can also try using different woody herbs, or even crumble in a dried red chilli if you want to add a bit of a kick.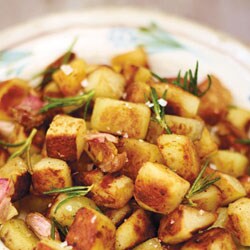 Our site can best be viewed with the latest version of Microsoft Edge, Google Chrome or Firefox.