Side dish – 4 portions
Servings
4 persons,
Preparation time
10 minutes,
Cooking time:
20 minutes
Ingredients
750 g waxy potatoes
1 clove garlic, crushed
1 tablespoon fresh thyme
Sea salt
Directions
Preheat the airfryer to 180°C. Peel the potatoes and slice them into thin discs. Soak them in water for at least 30 minutes. Drain them thoroughly and pat the tops of the slices dry with kitchen paper.
Mix the garlic, thyme and olive oil in a bowl and coat the potatoes in this mixture.
Transfer the potato slices to the fryer basket and slide the basket into the AirFryer. Set the timer to 20 minutes and fry the potatoes until they are golden brown and done.
Put the fried potato slices on a warm platter and sprinkle with salt. Delicious with lamb chops or cutlets.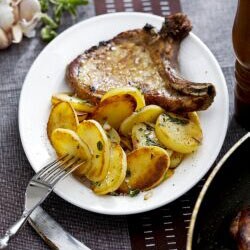 Our site can best be viewed with the latest version of Microsoft Edge, Google Chrome or Firefox.