Easy and versatile
Servings
1 persons,
Cooking time:
20 minutes
Ingredients
100 ml olive oil
100 ml sunflower oil
2 cloves garlic
1 egg yolk
1 teaspoon mustard
½ tablespoon white wine vinegar
freshly ground black pepper
Directions
Heat the olive oil in a saucepan. Put the cloves of garlic (with skin) in the oil and leave to soften over a very low flame for 15 minutes, making sure the garlic doesn't burn. Leave to cool in the oil. Place the emulsifying disk in the food processor.
Squeeze the garlic between thumb and index finger into the bowl (discard the skin). Add the egg yolk, mustard, vinegar and a pinch of salt. Mix for 15 seconds. Leave the motor running and add the garlic oil in a trickle through the feeding tube. Stop every now and then to give the yolk a chance to incorporate the oil. When all of the garlic oil has been added, you can add the sunflower oil a little faster. Continue until you get a thick, creamy mayonnaise. Season to taste.
20 minutes total preparation time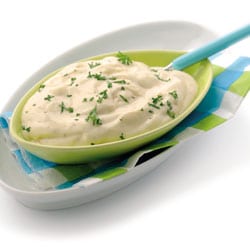 Our site can best be viewed with the latest version of Microsoft Edge, Google Chrome or Firefox.