For chocaholics
Servings
1 persons,
Cooking time:
60 minutes
Ingredients
for the cup cakes:
200 g soft butter
4 eggs
3 tablespoons cocoa powder
200 g flour
200 g dark chocolate (with hazelnuts), chopped
for the icing:
250 g icing sugar
1 egg white
1 tablespoon orange juice
- 2 muffin trays for 12 muffins each, greased (or 24 paper baking cases on a baking sheet)
Directions
Pre-heat the oven to 160°C. Place the kneading knife in the food processor. Put the butter and sugar in the mixing bowl and cream them. One by one break the eggs in a cup and add them through the feeding tube, keeping the food processor running.
Next add the cocoa powder and the flour in 3 batches, along with a pinch of salt. Mix for a few seconds between batches. Lastly add the chocolate and give everything a last mixing. Scoop the batter into the muffin trays or the baking cases and bake the cup cakes on the centre shelf of the oven for 25 minutes until golden. Leave to cool.
Rinse the bowl and place the emulsifying disk in the food processor. Add the icing sugar, egg white and orange juice in the bowl and run the motor until you get a glossy icing. Top the cup cakes with the icing, decorate with the orange zest and place in the fridge for 1 hour to set.
TIP: You can finely chop the chocolate in the food processor using the chopping knife . Make sure you break up the chocolate into several pieces first.
1 hour preparation time + 1 hour in the fridge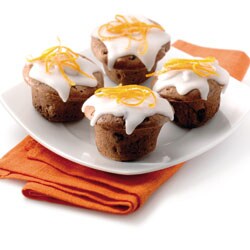 Our site can best be viewed with the latest version of Microsoft Edge, Google Chrome or Firefox.