So chocolaty
Servings
8 persons,
Preparation time
30 minutes,
Cooking time:
60 minutes
Ingredients
6 egg whites
160 g sugar
240 g dark chocolate (70% cocoa)
240 g butter (room temperature)
5 egg yolks
1 tablespoon vanilla sugar or 1 teaspoon vanilla essence
½ jar apricot jam
round springform pan (24 cm)
Directions
All ingredients should be at room temperature. In the food processor bowl, whisk the egg whites until stiff but not dry. While running the machine, slowly add sugar. Transfer to a big bowl and set aside.
Melt the chocolate in a bowl above a pan of hot water (the bowl should not touch the water). Cream the butter in mixing bowl with the steel blade until white and fluffy. Add the chocolate to the butter with the machine running. Add the yolks until smooth, add vanilla sugar and mix again.
Transfer the chocolate batter to a bowl with the egg whites and gently fold together. Carefully add flour using the interval switch. Do not over-mix.
Preheat the oven to 180 °C. Grease and flour the springform pan. Pour the batter into the pan and bake in the oven for 1 hour.
Remove, leave to cool, cut the cake into 2 layers, cover the top of each layer with apricot jam, put one on top of the other and cover the whole cake with chocolate glaze.
For the glaze: 'Melt the chocolate, warm the milk and cream. Mix together and decorate the cake.
30 minutes preparation time + 60-70 minutes in the oven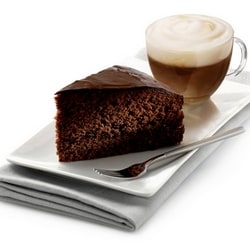 Our site can best be viewed with the latest version of Microsoft Edge, Google Chrome or Firefox.