Make it a bundle and save
Make it a bundle and get 1 item for free
Choose one of the following:
Choose one of the following products:
Add accessories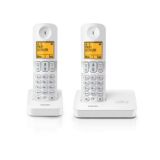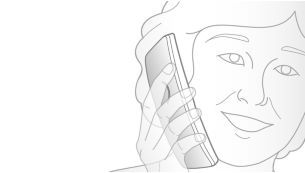 Contoured handset design for in-call comfort
Designed for maximum in-call comfort, the handset fits naturally against the curve of your face.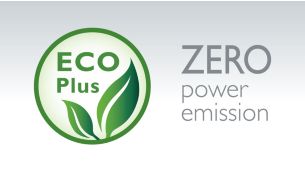 Low radiation (ECO and ECO+ modes) and power consumption
Philips phones are energy efficient and designed to be respectful to the environment. When ECO mode is activated, the emitted radiation is reduced by up to 60%, and up to 95% when the phone is charging. With ECO+ mode activation, the radiation drops to zero.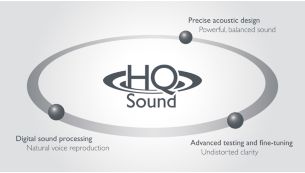 HQ-Sound: high quality acoustic engineering for superb sound
Philips cordless phones with HQ-Sound build upon decades of experience and breakthrough innovations in developing Hi-Fi audio products and high-end headphones to deliver excellent voice clarity on our DECT phones. When it comes to improving sound quality, our acoustics engineers and architects have thought of everything – high-quality components, digital signal processing, precise acoustic design, advanced testing and fine-tuning. The result is sound that is crisp, clear and authentic. Sound so good and natural, it is almost like being there in person.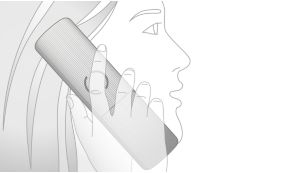 Textured back cover for non-slip grip
The rear of the handset is treated with a special texture for added comfort and better grip.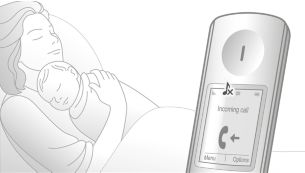 Silence mode for more privacy
Value your privacy and quiet at home? Easily disable the ringtones for specific "no call" times to enjoy peace and silence.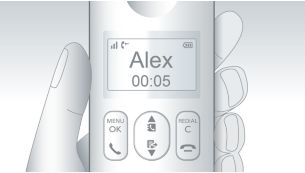 Caller ID – so you always know who is calling*
Sometimes it's good to know who's calling before you answer. And our Caller ID lets you keep track of who's on the other end of the line.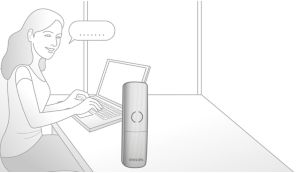 Freestanding handset with a speaker for easy hands-free calls
Hands-free mode uses a built-in loudspeaker to amplify the voice of the caller, allowing you to speak and listen during a call without holding the phone to your ear. This is especially useful if you want to share the call with others or simply multitask.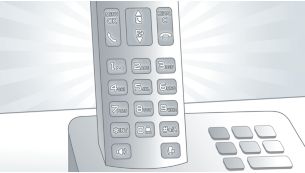 Keypad backlight for fast access even in dark rooms
The soft amber backlight makes keys easy to read in low light conditions and at night.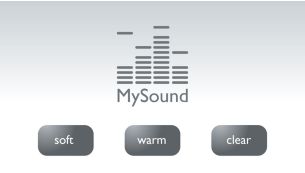 MySound profiles to match your sound preference
Sound perception is subjective, and everyone has their own listening preference. MySound brings personality back to every conversation by allowing you to choose the audio profile that best matches your sound preferences: Clear—to make voices sound crisper and clearer; Soft—for friendly, softer tones; Warm—to make voices sound welcoming and warm.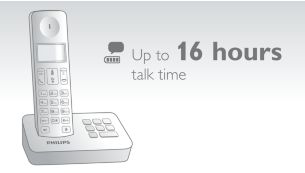 Up to 16 hours of talk time on a single charge
Technical Specifications
Picture/Display

Display size

Display type

Backlight: Yes

Backlight colour

Memory Capacity

Phonebook

Redial List Capacity

Call log entries

Phonebook store in the base

Sound

HQ-Sound

Sound Profile: MySound

Volume control on handset

Ringtones on handset

Convenience

Menu structure in the handset

Speakerphone — talk hands-free

Personalisation

Silence mode and Night mode

Signal strength indicator

Battery level indicator

Intercom — multiple handsets

Date/Time display

Alarm Clock

Battery charge indication

Programmable hot keys

Call Management

Key tone on/off

Auto Registration

Auto hang up

Keypad lock

Multi-base capability

Multi-handset capability

Number of keys

Backlit keypad

Base Station keys

Up to 250 hrs standby time

Charge time: 8 hours

Line cord length

Power cord length

Range

Open field <300 m; indoor <50 m

Non-slip grip

Up to 16 hrs talk time

Power

Battery capacity

Battery type

Mains power

Security

Transmission encryption: Yes

Network Features

Compatible

SAR Value

Philips handsets

Eco Design

Eco+

Full ECO Mode (NEMO)

Packaging dimensions

Depth

EAN

Gross weight

Height

Net weight

Number of products included

Packaging type

Tare weight

Width

Type of shelf placement
Our site can best be viewed with the latest version of Microsoft Edge, Google Chrome or Firefox.