Servings
4 persons,
Preparation time
5 minutes,
Cooking time:
20 minutes
Ingredients
50 grams of flaked almonds
200 grams of rolled porridge oats
750 milliliters of milk
sea salt
2 ripe bananas
maple syrup, to serve
Directions
Make sure the stirrer attachment is in place in the pan, then set the temperature to 130°C. Once the pan has heated up, add the almonds and set the timer for 8 minutes, to cook until lightly golden. Once done, tip into a bowl and put aside.
Put the oats and milk (you can use water instead if you like, or a mixture of the two) in the pan with a small pinch of salt. Set the temperature to 110°C and set the timer for 12 minutes.
Meanwhile, peel and mash one banana, then peel and finely slice the other. A couple of minutes before the time's up, add the mashed banana to the pan. Check the consistency of the porridge – if you prefer it a little runnier, add a splash more milk or water.
Divide the porridge between four bowls, top with the sliced banana and a scattering of toasted almonds, then drizzle with maple syrup and serve. Save any leftover toasted almonds in a jar for another day.

Chef's tip:

You can use this porridge recipe as a base and tweak it to embrace all your favourite flavours. Anything from fresh seasonal berries to a dollop of chunky marmalade, or a pinch of cinnamon to a scattering of poppy seeds, will work a treat.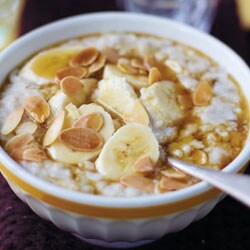 Our site can best be viewed with the latest version of Microsoft Edge, Google Chrome or Firefox.