Servings
4 persons,
Preparation time
10 minutes,
Cooking time:
30 minutes
Ingredients
• 20 grams blanched hazelnuts
4 apricots, halved, stones removed
1 ripe, firm pear, cut into eighths, core removed
4 fresh figs, halved
1 vanilla pod, halved lengthways
6 tablespoons wildflower or lavender honey
1 punnet of strawberries
1 punnet of blueberries
2 tablespoons brandy
80 grams crème fraîche or natural yoghurt, to serve
zest of 1 orange, to serve
Directions
Make sure the stirrer attachment is in place in the pan, then set the temperature to 175°C. Once the pan has heated up, add the hazelnuts to the pan and set the timer for 10 minutes to cook until lightly golden. Once the time's up, tip into a pestle and mortar and put aside.
Reduce the temperature to 130°C, add the apricot and pear to the pan and set the timer for 10 minutes. When the time's up, add the figs and vanilla pod and set the timer for a further 10 minutes, so the fruit softens nicely.
Drizzle the honey into the pan, add the strawberries and blueberries and set the timer for 3 minutes, so the honey starts to bubble. Add the brandy and set the timer for a final 2 minutes. Meanwhile, roughly crush the hazelnuts in the pestle and mortar.
Spoon the glossy fruit and syrup onto a platter or divide it between bowls, dollop over a little crème fraîche or natural yoghurt, scatter with the chopped nuts and orange zest, then tuck in.

Chef's tip:

The beauty of this recipe is that it's totally adaptable to the seasons. Just keep roughly the same volume of fruit overall, choose fairly firm fruit such as peaches, plums and cherries, and cut it all into nice-sized chunks that will be a pleasure to eat.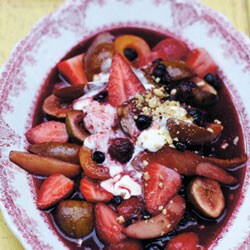 Our site can best be viewed with the latest version of Microsoft Edge, Google Chrome or Firefox.