Servings
8 persons,
Preparation time
5 minutes,
Cooking time:
35 minutes
Ingredients
100 grams of mixed nuts, such as hazelnuts, almonds and pistachios, roughly chopped
50 grams of pumpkin or sunflower seeds, or a mixture of the two
200 grams of rolled porridge or jumbo oats
25 grams of desiccated coconut
1 teaspoon of ground cinnamon
5 tablespoons of runny honey
150 grams of mixed dried fruit, such as sour cherries,
Directions
Make sure the stirrer attachment is in place in the pan, then set the temperature to 175°C. Line a baking sheet with greaseproof paper.
Once the pan has heated up, tip in the nuts, seeds, oats, coconut and cinnamon. Add 3 tablespoons of honey and set the timer for 20 minutes.
Meanwhile, chop any larger dried fruit into chunks. When the time's up, add the dried fruit and the remaining honey to the pan and set the timer for a further 10 minutes, so it's golden brown and smells fantastic. Spoon the granola onto the lined baking sheet and leave to cool.
Either serve the granola as soon as it's cool, or pop it in an airtight container for another day. Delicious served with natural yoghurt and fresh seasonal berries.

Chef's tip:

Keep things interesting by using different combos of nuts, fruit and seeds each time you make a batch of this delicious granola. You'll soon find your favourites.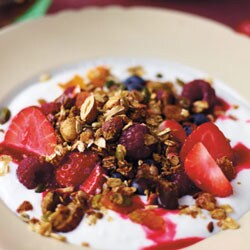 Our site can best be viewed with the latest version of Microsoft Edge, Google Chrome or Firefox.