Servings
2 persons,
Preparation time
5 minutes,
Cooking time:
40 minutes
Ingredients
1 head of cauliflower
sea salt
4 tablespoons sesame seeds
2 teaspoons cumin seeds
1-2 dried red chillies
1 tablespoon olive oil
zest and juice of 1 lemon
Directions
Start by preparing the cauliflower. Get rid of any outer leaves and break it into florets. For this stage of the recipe, you don't need the stirrer attachment. Pour 3 litres of cold water into the HomeCooker pan, put the lid on and set the temperature to 250°C. Once the water is boiling, sit the pasta insert in the pan, add the cauliflower and set the timer for 2 minutes. When the time's up, carefully lift out the pasta insert to drain the cauliflower.
Empty and wipe out the HomeCooker pan, make sure the stirrer attachment is in place, then set the temperature to 175°C. Once the pan has heated up, add the sesame seeds and set the timer for 5 minutes so they turn golden. Scoop into a bowl and put aside
Meanwhile, in a pestle and mortar, bash the cumin seeds and dried chillies with a pinch of salt until well crushed. Keeping the temperature at 175°C, add the olive oil and crushed spices to the pan and set the timer for 3 minutes. Add the cauliflower and set the timer for a further 25 minutes, so it gets nice and crispy. Just before the time's up, sprinkle over the toasted sesame seeds and add the lemon zest and juice to the pan.
Once it's done, spoon onto a serving plate and enjoy as a side for roast chicken, fish or beef, or with your favourite curries.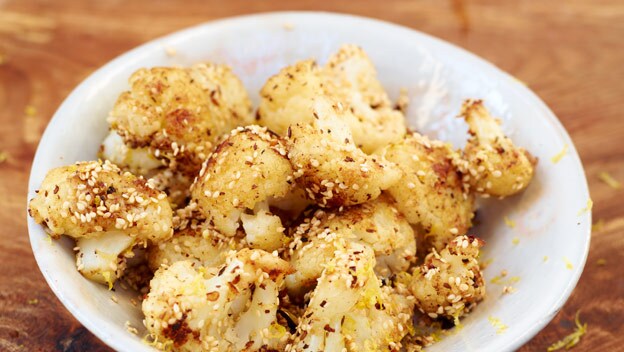 Our site can best be viewed with the latest version of Microsoft Edge, Google Chrome or Firefox.