Philips HQ900 Series Shaving Heads
Recyclable CloseCut replacement shaver heads
HQ56/50


Philips HQ900 Series Shaving Heads
Recyclable CloseCut replacement shaver heads
HQ56/50
Make it a bundle and save
Make it a bundle and get 1 item for free
Choose one of the following:
Choose one of the following products:
Add accessories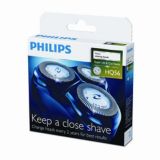 Philips HQ900 Series Shaving Heads
Recyclable CloseCut replacement shaver heads
All of the Philips shaving blades are now recyclable. Recycle your used blades through our free postage address and prevent the waste from going to landfill.
Technical Specifications
Shaving heads

Shaving heads per packaging

Fits product types
Our site can best be viewed with the latest version of Microsoft Edge, Google Chrome or Firefox.